Scrunchy Sizes Explained
Over the years, I've found that there are many styles and preferences for hair scrunchies. So rather than trying to 'standardize' everything, I decided to make a variety of sizes.
First let me explain the two major measurements I use: width (for size) and length (for fullness.) To make a scrunchy you cut a strip of fabric and first make it into a "tube."
The long part of that tube is the length and the width of the tube when lying flat is the (finished) width. Without going into boring technical details, suffice it to say that there some variation in the length. different fabrics come from the manufacturer in different widths thus velvet is much wider/fuller than silk. If you buy a regular velvet you probably want a full silk.
Regular – 2″ wide; approx 22″ long
Large – 3″ wide; approx 22″ long
Full – 2″ wide; 45-60″ long (twice as full as the regular)
Jumbo – 3″ wide; 45-60″ Long
Small – 1 3/4″ wide; 20″ long
Twiggy – 1″ wide; 20″ long
Skinny – approx 3/4″ wide; approx 22″ long
Another aspect of size is the interior diameter, the stretchy part.
Small and Twiggy
Our small and Twiggy sizes use the same size elastic. Each is approximately one inch (the inner diameter) and depending on the thickness of you hair can stay in place with one wrap or two. Our small size is comparable to the size sold in the large discount stores.
Regular and Large
The regular and the large sizes have approximately one and a half inch inner diameters and can be twisted one to three times depending on the your hair thickness and how tight you like to wear your scrunchies.
Full and Jumbo
The full and jumbo sizes have a two inch (inner) diameter and can be twisted three to four times or worn as a snug headband.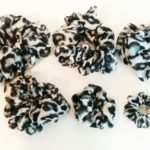 Scrunchy Sizes
Top row: Left to Right – Jumbo, Full, Large
Bottow row: L to R – Regular, Small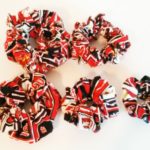 Scrunchy Sizes
Top row: Left to Right – Jumbo, Full
Bottow row: L to R – Large, Regular, Small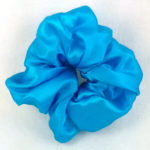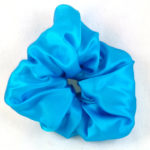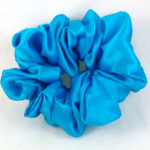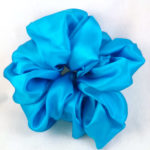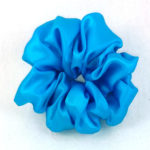 Fabric Types and Descriptions
Cotton, Silk, rayon etc. are raw materials. How they are woven and treated makes a big difference in appearance and feel. Here are some of the most common fabric types:
Silks
Silk is obtained from cocoons of certain species of caterpillars. It is soft and has a brilliant sheen. It is one of the finest textiles and is very strong and absorbent. Silk is one of the oldest known textile fibers and, according to Chinese tradition, was used as long ago as the 27th century BC.
Satin and silk are often confused with each other. Silk is the fiber whereas Satin is the weave. The silk fiber is inherently soft but its weave can make a huge difference in its overall feel. Think of the 'raw silk' you've seen used in jackets. That's nothing like the silk (charmeuse) often used for pajamas and pillowcases. The pajamas and pillowcases are usually made of a satin weave.
Charmeuse
Loved for its lustrous shine and sumptuous feel, charmeuse is the most widely recognized of the silk fabrics. Wonderfully versatile, this elegant fabric has medium weight and some natural elasticity, making it perfect for skirts, dresses, eveningwear, nightgowns, lingerie, and gently shaped tops.
Crepe de Chine
The matte surface and "pebbled" texture of this graceful fabric reflect individual pinpoints of light, giving it wonderful chromatic depth and striking eye-appeal. This luxurious silk has the additional virtues of great durability and excellent wrinkle resistance. Lightweight with a pleasing drape, designers choose it among silk fabrics for elegant slacks, skirts, dresses, suits, and evening wear.
Dupioni
This shimmering & lustrous silk is woven from two different cocoons that have nestled together. Also spelled douppioni or dupion, the name is actually a corruption of the Italian "duplicato", meaning "duplicate." The slightly tangled cocoons cause the resulting silk to seemingly change its hue in different lights. It takes dye easily, and so it's usually produced in bright shades, enhancing its beautiful iridescence. It has a moderately crisp drape, subtle luster, and a slightly pebbled texture, though not so much as crepe de Chine. Produced in mid- to lightweights, look for it in fine suits, dresses, tops, and more.
Fuji Silk
Exquisite with its soft luster and a lavish touch that's reminiscent of the finest suedes, this medium-weight fabric is woven from spun silk fibers, giving it excellent durability and great wrinkle resistance. Having a fluid drape and a texture that's practically intoxicating, designers love it among silk fabrics for dresses, women's blouses, and men's sport shirts.
Georgette
This soft & lustrous fabric drapes very fluidly and falls easily into soft ripples. It has a grainy texture and sheer feel that's reminiscent of crepe de Chine. It's durable and greatly favored for elegant evening-wear, dresses, skirts, and gently fitted blouses & tops.
Jacquards
A system of weaving that uses a highly versatile patterning mechanism, allowing for the creation of large intricate designs. Fashion designers love silk jacquards for their skirt, jacket, and evening wear creations. Interior decorators greatly prize them for sheets, pillowcases, and throw
Sateen
A sateen finish is created when threads are woven 4 over, 1 under, so more threads are on the surface of the fabric. The result is an extremely soft, smooth feel with beautiful luster.
Shantung
Named for the Chinese province where it originated. Similar to dupioni, but featuring a more irregular and textured surface
Silk Cotton
Blending cotton with silk produces a luxurious fabric with superior substance and body. Look for luxurious silk cotton jackets, pants, sweaters, and tops.
Silk Faille
The distinctive ribbing of this handsome silk is created by weaving a thicker yarn into the fabric at set intervals. It has a subdued sheen, drapes beautifully, and readily holds a crease, making it preferred for dressy apparel that's tailored, pleated, or otherwise "fashion forward."
Silk Linen
The soft feel and elegant drape of pure cotton linen gets only better when blended with luxurious all-natural silk. Used to create finer fashions and premium apparel.
Silk Twill
Distinguished by diagonal lines that herald its superior strength & durability, this double weave fabric has a muted luster and supple feel. Medium-weight fabrications make ideal sleepwear and shirts. Heavyweight versions are often the choice for the most beautiful dresses, slacks, and blazers.
 Batiste
Batiste is a lightweight, soft, semi-sheer fabric, usually made of cotton or cotton blends. It belongs to the lawn family and is made of tightly twisted, combed yards and mercerized finish. It can be printed or embroidered.
Broadcloth
Broadcloth is a plain weave tightly woven fabric, characterized by a slight ridge effect in one direction, usually the filling. The most common broadcloth is made from cotton. Has a smooth finish, medium to high quality thread count.
Brocade
Brocade is a heavy, exquisite jacquard type fabric with an all-over raised pattern woven into the fabric. It often has a quite elaborate design pattern and is often reversible. Often has colored threads making a design against a satin background. This makes the pattern design stand out. The most affordable brocades are made out of synthetic blends or cotton fabrics,
Calico
Calico is a tightly-woven cotton fabric with an all-over print, usually a small floral pattern on a contrasting background color.
Chiffon
Chiffon is a tightly woven lightweight, extremely sheer, airy, and soft fabric. Made from nylon or silk, chiffon is a very strong fabric
Corduroy
Corduroy is usually made of cotton, utilizing a cut-pile weave construction. Extra sets of filling yarns are woven into the fabric to form ridges of yarn on the surface. Has narrow medium and wide wales. While some customers like corduroy scrunchies it can be heavy and stiff. repeated washings will soften the fabric
Cotton
Many of our cottons are Kona, a name brand denoted by a thread count of 60 x 60. Cotton is strong, lightweight and durable.
Crepe-back Satin
Crepe-back Satin fabric has highly twisted yarns that are used in the filling direction. It is a soft fabric which is reversible.
Jacquard fabrics woven fabrics manufactured by using the Jacquard loom. Brocade and damask are types of jacquard woven fabrics.
Lawn
Lawn is a lightweight, fine cloth made using combed linen or cotton yarns. The fabric has a crease-resistant, crisp finish.
Linen
A fabric made from linen fibers obtained from inside the woody stem of the flax plant. Linen fibers are much stronger and more lustrous than cotton. Linen fabrics are very cool and absorbent, but wrinkle very easily, unless blended with manufactured fibers. Linen is one of the oldest textile fibers.
Organdy
Organdy is a stiffened, sheer, lightweight fabric. Made with tightly twisted yarns. Crispness is due to a finish with starch and calendaring which washes out.
Organza
Organza is a thin stiff transparent silk or synthetic dress fabric. It is a fine, sheer, lightweight, and crisp fabric. It has a very wiry feel. It crushes or musses fairly easily, but it is easily pressed.
Polyester
Polyester is a manufactured fiber that wasn't seen before the early 1950s. It is an extremely resilient fiber that is smooth, crisp and particularly springy. Its shape is determined by heat and it is insensitive to moisture. It is lightweight, strong and resistant to creasing, shrinking, stretching, mildew and abrasion.
Rayon
Rayon is a manufactured fiber made from viscose. Its drapability and dye ability are excellent and it is fairly soft. Rayon does have a tendency to shrink but does not melt in high temperatures.
Sateen
Sateen is a cotton fabric woven like satin and has a glossy surface. Lustrous and smooth with the sheen in a filling direction.
Satin
Satin has a noticeable lustrous fabric surface and a dull back. The luster is produced by running it between hot cylinders. Made in many colors, weights, varieties, qualities, and degrees of stiffness. Available in silk as and synthetic blends.
Taffeta
Taffeta is a lustrous silk or rayon fabric of plain weave. It is made in plain colors, fancy prints, watered designs, and changeable effects. It is smooth with a sheen on its surface. The textures vary considerably. They have a crispness and stiffness. Taffeta in silk will not wear, as long as other high quality silks, since weighting is given the fabric to make it stiff.
Velvet
Velvet is a closely woven fabric of silk, cotton, etc., with a thick short pile on one side. Comes in many types, qualities, and weights. Good velvet wears fairly well and is inexpensive.Better velvet may be crush resistant, water resistant, and drapes well. Has to be handled with care, and pressed on a velvet board. Cut all one way. Rayon velvet is the most inexpensive and has a 'plush' appearance. Overtime rayon velvet will develop shiny spots on worn areas.